Tagged in heart
---
Posted on 10th March 2015
Heart service widens reach
WITH a packed-house clinic in Emerald just days ago, the pioneering "home delivery" Heart of Australia program, bringing specialist cardiologists to rural and remote communities, has confirmed its expansion into Central Queensland – just five months after its launch in the south-west.
Program founder, Brisbane-based cardiologist Dr Rolf Gomes, confirmed that along with Emerald, Heart of Australia now planned regular visits to Moranbah, Charters Towers, Barcaldine and Hughenden.
"We could not ignore the demand and willing support of the people out there – the local GPs, councils and businesses – so we've fast-tracked the spread of our service territory into the central west," Dr Gomes said.
"The first thing Heart of Australia offers is relief from having to drive for days, leaving home and family, maybe hanging around in a city overnight, for what could turn out to be a … Read More »
---
Posted on 6th February 2015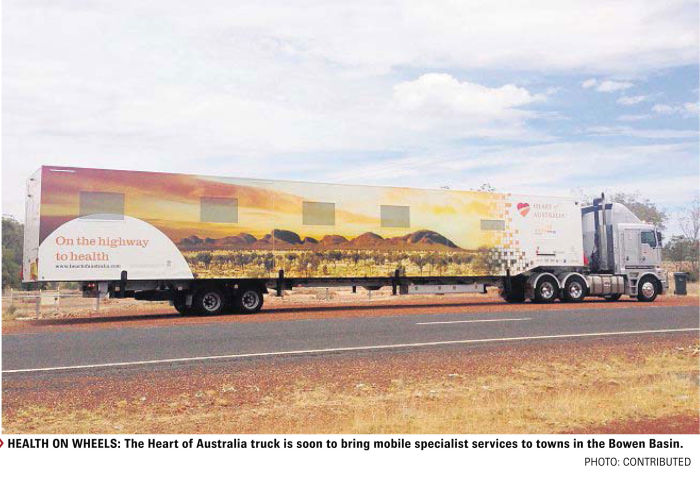 Cardiologist on wheels: New medical service to test tickers throughout region
WITHIN weeks, the Central Highlands and coalfields communities will have the chance to test their ticker when the Heart of Australia rolls into towns.
The Heart of Australia project is the brainchild of Brisbane-based cardiologist Dr Rolf Gomes, who visited Emerald and Moranbah last week to brief local general practitioners, business and council representatives.
Dr Gomes told CQ News that while his Heart of Australia team was still finalising logistics, Central Queensland had "always been in our development plan".
The service, the first of its kind in Australia, was launched about three months ago in Toowoomba and operates fortnightly specialist medical clinics through the south-west, as far inland as St George.
Dr Gomes said he and his team had been "overwhelmed by the support" of rural and remote area GPs and every community on … Read More »