A Melbourne-based Cardiac Sonographer, who has never let distance get in his way.
---
Posted on 14th July 2020
---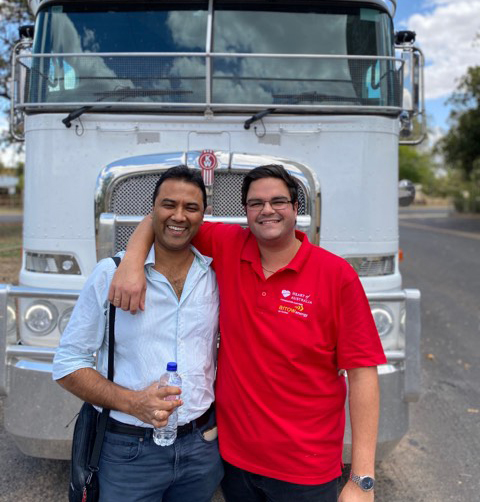 As a firm believer in equitable access to healthcare for rural and regional Australians, Melbourne-based Cardiac Sonographer Mitchell Hubble has never let distance get in his way.
Mitchell embodies the Heart of Australia mindset that all Australians have the right to access quality healthcare services, regardless of where they live.
"Since I can remember, I've always wanted to be involved in healthcare. I love helping people, and being able to do that for a living is a childhood dream come true.
"When I was younger, I spent my gap year volunteering overseas in both Africa and Thailand. I had the opportunity to teach basic maths and English to a wonderful community, and to spend time renovating a crèche.
"My time there highlighted the value and joy of helping others. The whole thing opened my eyes to the difference one person can make if they're willing to help and to travel the distance necessary to get to where you're needed.
Since then Mitchell went on to qualify as a Cardiac Sonographer, a rewarding career that provides him with ongoing opportunities to make a difference in people's lives. Based in a private hospital in Melbourne, Mitchell is one of a growing number of Heart of Australia team members who travel interstate to provide health services to rural and regional Queenslanders.
"My manager was the one to tell me about the Heart of Australia program. She'd done several rotations in the Heart Trucks herself, and she was confident that I would love being a part of it and make a real difference.
And knowing I'd previously travelled as far as Africa and Thailand to volunteer – she knew a quick flight to Queensland wouldn't put me off.
Hearing her talk about the program and her experiences with the patients and the team, I knew I wanted to be a part of it."
"In 2019 I signed up with Heart of Australia and haven't looked back. It didn't take long for me to fall in love with the work and the organisation. And it was amazing just how quickly I could make a real difference to so many lives.
"That first weekend on the Heart Truck was one of the best weekends of my life.
"Growing up in Melbourne, you are so accustomed to having access to all the health services you need on your doorstep. So, it was a real shock when I realised that if the Heart of Australia service wasn't out there, these people simply wouldn't get the services they need.
"Being part of the team that delivers that service is incredibly fulfilling.
"Many of the locals will tell you directly how the service is helping and changing their community – making specialist medical care accessible to people that in a lot of cases, have never had it. They're so appreciative, and when I tell patients I'm from Melbourne, the look of gratitude on their face is priceless."
Mitchell says working with the Heart of Australia team is also incredibly rewarding.
"From day one, I was welcomed with open arms and instantly became a part of the team. The whole team is friendly and easy to get along with, and their professionalism and skills ensure any challenges that arise – including the occasional flooded road or natural disaster are overcome quickly.
"I'll never forget the end of my first day. The whole team was heading for dinner when we bumped into a group of patients from earlier in the day. They were just so grateful that we'd brought the service to town. The whole team ended up with free beer, and big smiles – the kind you'll never get in a big city.
"When we were heading out to the next town, a local Woman caught on that we had a six-hour drive ahead of us. And delivered us freshly made pumpkin soup and scones at 7:30 in the morning. Heaven knows what time she was up to start baking them. You just don't get that experience in the city.
"It only took one weekend, but I fell in love with rural Australia.
/* */ ?>
---
/* */ ?>