Heart of Australia's Trucks
As part of the broader Heart of Australia network, Heart of Australia Corporate Health Initiative (HOACHI) brings employee health services to rural, remote and regional Australia via Heart of Australia's growing fleet of custom-designed clinics-on-wheels. Bringing the medical clinic to the worksite has many advantages including:
Minimised time and cost to attend appointments – as workers do not have to travel to multiple appointments to complete their examinations
Efficient workflows – our systems and workflows are designed for delivering high volumes of worker examinations minimising the time to complete
Greater worker engagement – by coming to the work environment, our health and safety messages are more effectively communicated with and received by workers
Our purpose-built, self-sufficient trucks include spacious consultation rooms, testing rooms with state-of-the-art equipment, are wheelchair accessible, have toilet facilities, and are air conditioned for patients. Our clinics are staffed by experienced technicians and physicians and supported by expert physicians in the fields of radiology, occupational and respiratory medicine.
By engaging HOACHI, you are not only supporting better health for your employees but you are doing something of great value for your country. Proceeds from HOACHI's delivery of employee health services help fund Heart of Australia's ongoing specialist services for rural, remote and regional Australian communities.
HEART 1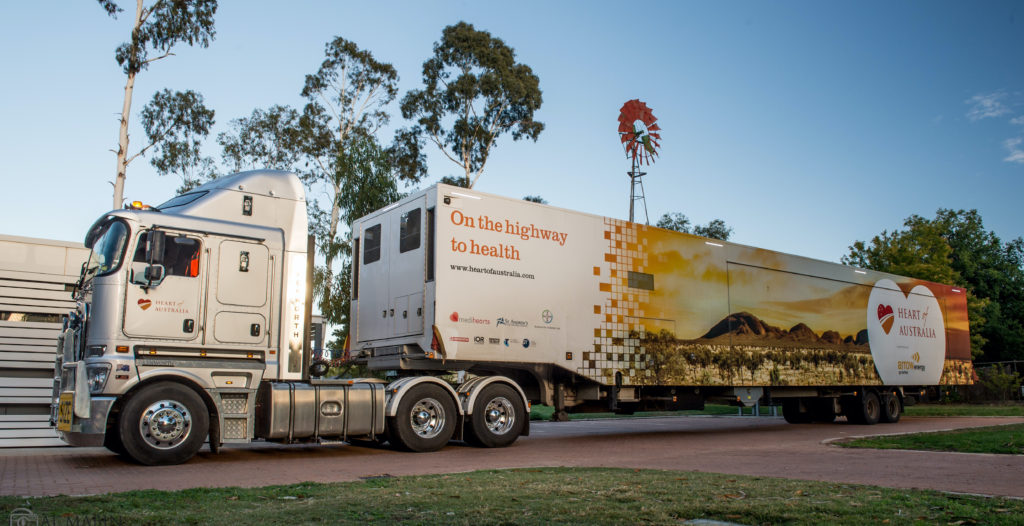 Heart of Australia's first mobile clinic, HEART 1, is an 18-wheel semi-trailer that founder Dr Rolf Gomes personally designed and was launched in October 2014 after six years of planning and construction. It has welcomed more than 5,000 community patients on its 8,000km monthly visits to 13 bush communities throughout southwest and central Queensland.
HEART 2
Heart of Australia's second mobile clinic, HEART 2 saw its first patient in Dalby in September 2018 as part of Heart of Australia's growing state-of-the-art fleet servicing rural, regional and remote Queensland communities. With the addition of the second truck, Heart of Australia has been able to add more townships to its routes and is now proudly servicing 16 rural and outback communities.
HEART 3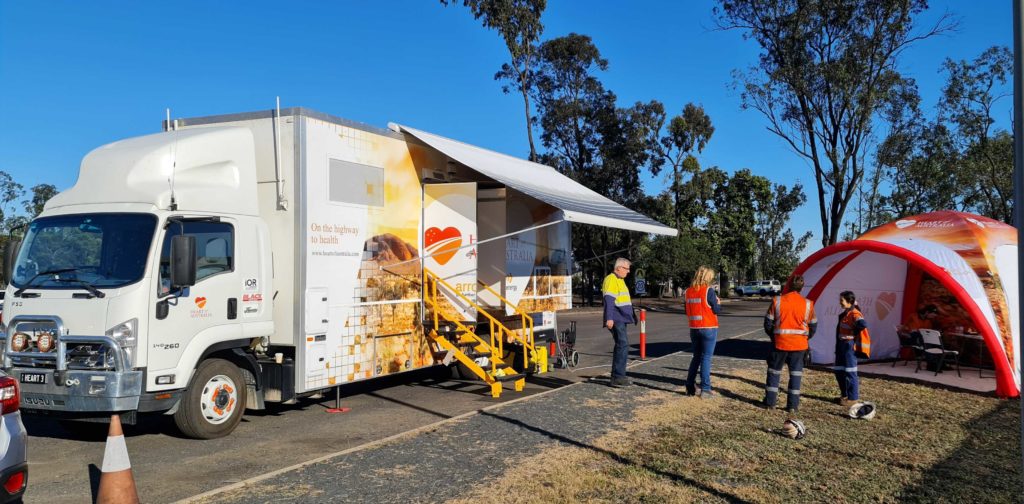 HEART 3 is the latest addition to Heart of Australia's fleet, a smaller mobile medical clinic affectionately referred to as the "Baby Truck". HEART 3 is a customised and purpose built Isuzu F-Series FSD260 truck. Despite being smaller than the other trucks, HEART 3 has similar clinical capabilities. This mini-mobile clinic was created using an innovative design to condense consulting rooms and state-of-the-art equipment into a 12-metre long configuration. HEART 3 is ideal for HOACHI's preventative health screening campaigns, community events and as an overflow clinic for the other trucks when needed.
HEART 4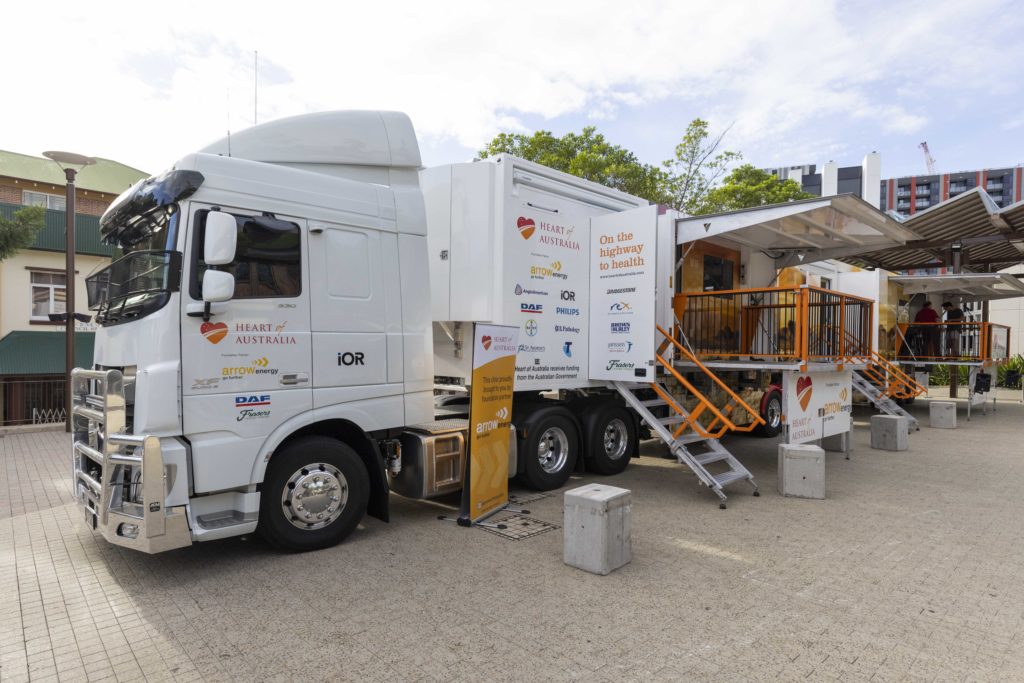 HEART 4, is a 34-wheel custom-built B Double road train. Servicing our new Northern Route, HEART 4 will bring welcome relief to communities in need of specialist medical care.
HEART 5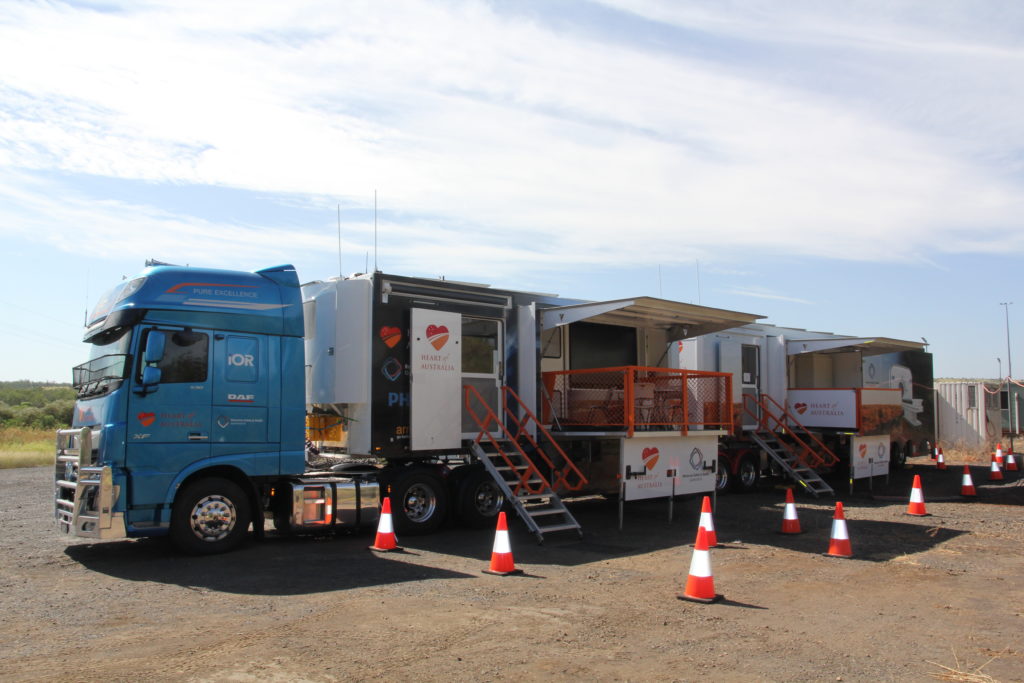 Heart of Australia's fifth mobile clinic, HEART 5, is a 26m custom-built B-Double road train specifically built to support coal mine, mineral mine and quarry workers by enhancing the early detection capabilities of health surveillance for mine dust lung disease (MDLD). It will bring specialist equipment and physicians to current and former workers across rural, remote and regional Australia.
HEART 5 is an engineering marvel and will be the world's first battery powered Computed Tomography (CT) machine (Patent Pending). As well as bringing the equipment critical to identifying MDLD, HEART 5 will support communities across rural, remote and regional Australia with local access to general CT radiology, contrast CT studies, and cardiac CT studies for the first time.
Click below to watch a time-lapse of HEART 1 being built: